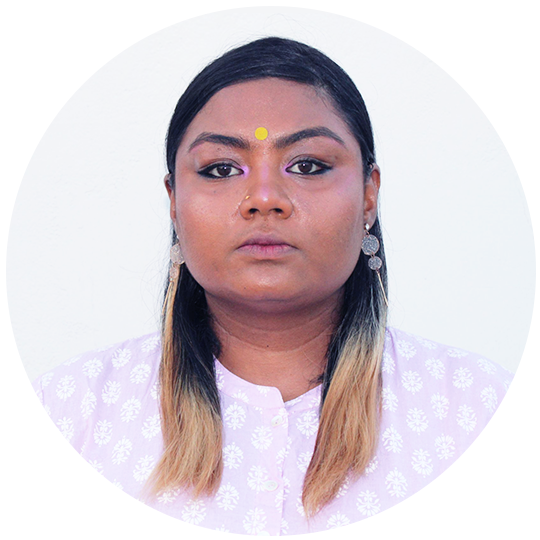 Sanjla Perumal
(They / Them / Theirs)
External Member (POSH)​,
Queer Trainer (TPA)​
Educational Qualification
Sanjla recently moved to India after having lived in the States for 14 years. They have worked in different sectors of people-oriented industries including as an Organizer for Feminist Majority (FM Foundation) and an Education Program Aide at the Boys & Girls Club of America (BGCA). They have experience in research as a student of Sociology, designing workshops as part of after-school curriculum at BGCA and as an L&D Intern at Caesars Entertainment Inc. Campaigning and canvassing on-campus were some of the responsibilities as an Organizer for Feminist Majority Foundation.
Sanjla was a very involved educator at the BGCA, managing multiple projects like LMS, Emotional Intelligence workshops, and Smart Moves: a prevention and education program addressing problems such as drug and alcohol use and premature sexual activity. Their most extensive technical support work was at UPS, as a Social Media Support Agent they managed customer queries and expectations on platforms like Facebook and Twitter. They were part of a team that represented UPS on these applications. Their experience as a Management Intern at Walmart Stores Inc., provided for an understanding of the retail giant. At the conclusion of the internship, they executed a People First project to Senior Management with high commendations. Trans liberation, Disability Justice and Sociology are some of their passions. They enjoy consuming geo/socio-political media and French toast!
Sanjla along with their teammate, Varsha Sastry, received Honourable Mention by the What Can Design Do? No Waste Challenge Team; after being nominated as finalists. They were also the elected President for Students Without Borders at the CUNY-Queens Campus Chapter.
As part of the POSHequili team, they are most excited about new and challenging opportunities presented, delving deep into India's legislation for vulnerable communities such as women, trans folks, children, and people with disabilities. Some of their responsibilities as an Associate include:
Acting as an External Member and assisting IC for 13 Organizations
Due diligence on Posh, preparing reports
Advising and guiding clients on Law
Conducting Trainings for a diverse portfolio of stakeholders
Research, summarizing judgements and creating content
Educational Qualification
Events & Open Workshops she has spoken at