Latest Edition Newsletter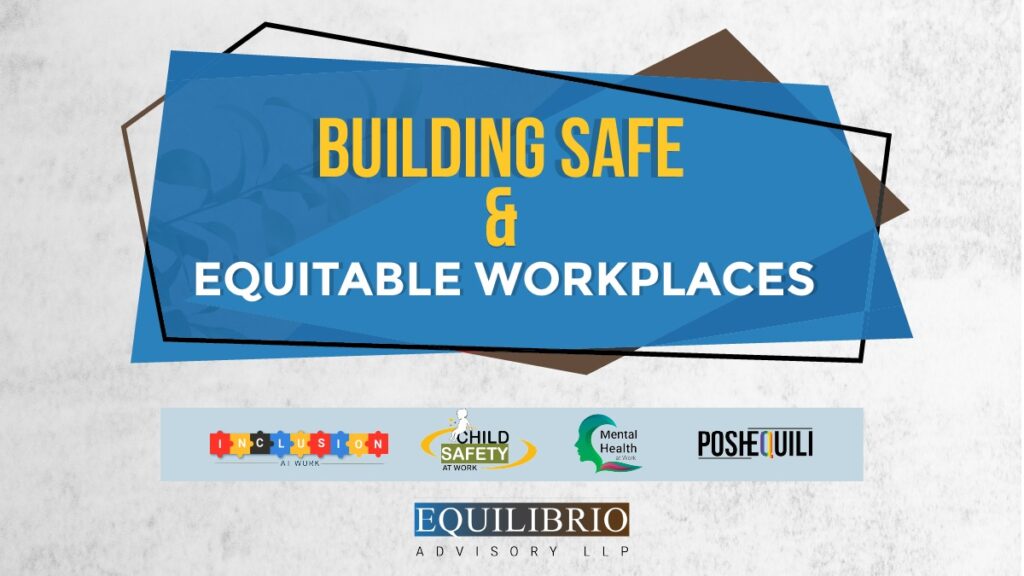 A brief bulletin for building safe workspaces!
This weekly newsletter is your gateway to staying current on relevant laws (like POSH, POCSO, Transgender Persons Act, etc.) and the psychosocial intersections that impact the workplace.
24th November 2023 | ED#06
With the #10yearsofPOSH nearing
completion, the judiciary has noticed
the gaping holes in the execution of
the POSH Act and has started taking
corrective steps. What does this
mean for your organisation?
Check out our open source resource
for more!
Mental Health at Work supports
teams and leaders to navigate
mental health concerns in the
context of work by helping you build
resilience and sharing relevant
resources. Reach out to the mental
health experts.
Inclusion at Work is wrapping up
Global Diversity Awareness
Month! We looked at why and how
DEIB strategies are important and
necessary for progressive
organisations. Need more
convincing? Check out our social
media for more evidence-based
resources
Interested in knowing more about
Child Safety at Work?
Your role and responsibility per Law?
Develop your knowledge base and
skillset with us!
Reach out to the team now – contact
now

It upholds continuity of POSH inquiry
beyond 90 days emphasizing the
seriousness of sexual harassment
complaints. The court rejects claims
of procedural lapses, reinforcing
commitment to thorough inquiry.
SC upholds gender-specificity in
Sexual Harassment Regulations.
Rejects plea to make them genderneutral, emphasizing the intended
protection for aggrieved women.
Delhi High Court's Landmark Verdict
in Vijay Kumar Pandey vs. Union of
India: Upholds Special Olympics
Bharat's compliance with National
Sports Development Code,
emphasizing protection for persons
with intellectual disabilities.
The Petitioner was facing charges
for failure to report a sexual offense
against a child. The HP HC deemed
the offence bailable & consequently
dismissed the anticipatory bail
petition.
II - EXPLORING INTERSECTIONS
The definition of safe workplace
might differ in the two acts, the
objective to preserve the freedom
and life (with dignity at workplace)
remains the same.
It is also pertinent to note that
Section 354 specifically addresses
situations where a woman is
subjected to assault or criminal force
with the aim of violating her modesty
while Section 354A
Shyam Sundar sir, a humble yet wise
older gentleman, often pats people
on the heads to "bless" them. One
day..
The POCSO Law is Gender-neutral

Have a burning question about POSH? Maybe Mental Health at Work, Child safety or DEI&B strategies? Drop us an email with your query and we would love to answer it, in all seriousness.
Curious Cat: Curious Cat: How does IC ensure timely and fair resolution of
sexual harassment complaints regarding adherence to the time limit specified in
the POSH Act?
EA Team: Delhi HC in CA Nitesh Parashar v. ICAI (linked above) affirmed the
importance of thorough inquiries, indicating that adherence to the specified time
limit should be considered, but not viewed as a terminal point. For further
inquiries, contact the EA team.
Here's all the tools you need to build safe and equitable workspaces!
Drop us a Hey, to get started!