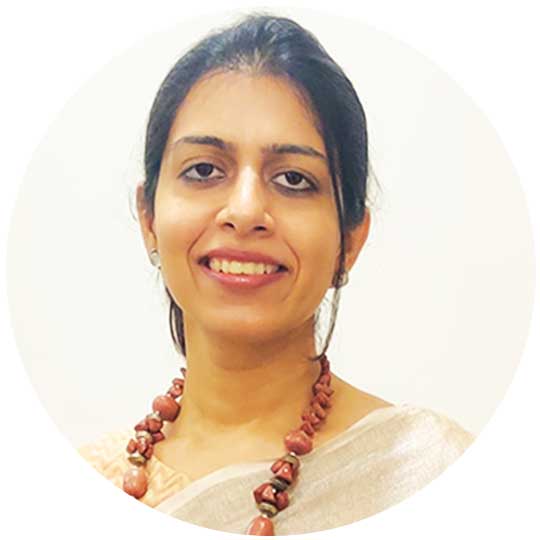 Samriti Makkar Midha
(She/Her)
Co-Founder, Equilibrio Advisory LLP
Psychologist (Clinical) & Queer Affirmative Psychotherapist (CBT, Narrative Therapy) Advisor & Trainer (POSH, POCSO, TPA, ADAH), Cisgender Heterosexual Ally
Educational Qualifications
Samriti is a trained and practicing Clinical Psychologist with extensive experience of working with a diverse adult population on a breadth of personal and professional issues. Her work covers areas of self-development, emotional regulation, workplace issues, relationships, marriage, parenting, work-life balance, emotional abuse in significant relationships, domestic violence and coping with critical situations.
She serves as an external member on the Internal Committee (IC) of several companies, which entailed investigation of formal complaints, assisting handling of informal complaints as well as providing critical guidance for adherence to POSH Law. Additionally, she works with schools in creating awareness & conducting capacity building workshops for Child Protection Committee Members, teachers, parents and children across age groups. As a trained counsellor she handles complaints of sexual violations with sensitivity & objectivity and is able to provide a deeper understanding of psycho-social factors of abuse and harassment.
Samriti has extended her understanding of experiences of marginalized communities and the oppression faced by them to start conversations on the need for Diversity, Equity & Inclusion (DEI) initiatives in organizations and schools to build safer and respectful spaces. Currently, she is committed to supporting organizations to recruit, train LGBTQ+ folx and explore diverse ways of having them become part of the workforce.
Organisations Supported as External Member
Complaints Of Sexual Harassment Handled
Training/Awareness Sessions Conducted
Check her events & open workshops she has spoken
Educational Qualifications